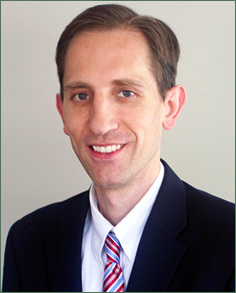 Dr. Gardiner Packer grew up out west in Salt Lake City, Utah and attended the University of Utah where he received a Bachelor's degree in Medical Biology. After college he moved to the Midwest to attend Creighton University School of Dentistry where he earned his Doctorate of Dental Surgery graduating at the top of his class.
Following dental school, he practiced general dentistry with his father for a year and then completed a General Practice Residency at the University of Utah Medical Center. He then moved to Richmond, received his certificate in endodontics and Master of Science in Dentistry from Virginia Commonwealth University School of Dentistry, and joined Dominion Endodontics in 2008 and has been in private practice since.
Dr. Packer is Diplomate of the American Board of Endodontics, and a Board Certified Endodontist. This is the highest level of achievement in Endodontics. Diplomate status is awarded following completion of a written exam, presentation of cases, and an oral exam, demonstrating to the board the highest level of academic understanding of the profession, skill, clinical ability, and professional judgement resulting in the highest level of care for all patients. He strives to practice and treat each patient with the care and personal touch they deserve.
He is an active member of the American Association of Endodontists, the American Dental Association, and the Virginia Dental Association. He also spent 10 years at the Children's Hospital of Richmond at VCU clinic and O.R. providing treatment for youth and children with special needs and enjoys continuing his education in various ways.
When Dr. Packer isn't with his patients he enjoys time with his lovely wife, Alison, and their six children. He loves going to sporting and other events with his family. He is an avid reader, plays golf, basketball, and he is a pinball enthusiast.