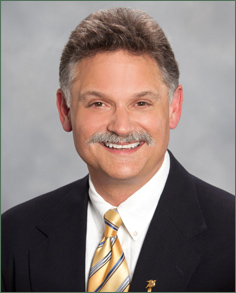 Dr. Bruce Overton was born and raised in Richmond, Virginia. He graduated from Hampden-Sydney College in 1984 with a degree in Chemistry, then he received his degree in pharmacy from the MCV/VCU School of Pharmacy in 1987. His expanding interest in health care lead him to pursue a career in dentistry, and he graduated from the MCV/VCU School of Dentistry in 1991.
After one year general practice residency at The Hunter Holmes McGuire Veterans Administration Medical Center, Dr. Overton was accepted as an endodontic resident at the VCU Department of Endodontics. he earned his Certificate in Endodontics and has been in private practice since 1995.
Dr. Overton is a Board Certified Endodontist and is a Diplomate of the American Board of Endodontics. Board Certification is the highest level of achievement in Endodontics. ABE Diplomate status is awarded to qualified endodontists who have demonstrated diagnostic skill, clinical proficiency, and professional judgement of a level that ensures the highest quality of care to patients. His philosophy of practice is to treat each patient with care and compassion, and to uphold the standards of his specialty.
Too busy for his own good, Dr. Overton serves on numerous committees for the Commonwealth of Virginia, and private missions as well. He is Chairman of the Caring Dentist Committee for the Virginia Dental Association. He is a former clinical instructor for the Department of Endodontics at the VCU School of Dentistry. On occasion, he volunteers in a veterinary capacity, helping our four-legged friends when needed, by performing root canals on law enforcement canines, and at the Richmond Metro Zoo where he has treated a lion, as well as two Asian bears, a snow leopard, and a chimpanzee.
When not performing root canals, Dr. Overton, a Commercial rated pilot, can be found flying his Beechcraft Baron along the East Coast of the United States with his wife Susan. He enjoys spending time with his family and friends, and also enjoys cooking, antique collecting, cycling and traveling to historic destinations in our great country.